A goodbye and a hello: meet our newest staff members!
Summer is here and that means new interns! But first, a goodbye message from the old interns:
We would like to thank J&TI Events for the all the opportunities, as we go home with a lot of new knowledge and experiences. A big thanks to Tiziana, Francesca and Francesco, as we really enjoyed our time in Italy!
– Lisa Allewijn, Amy Gootzen, and Laura van den Heuvel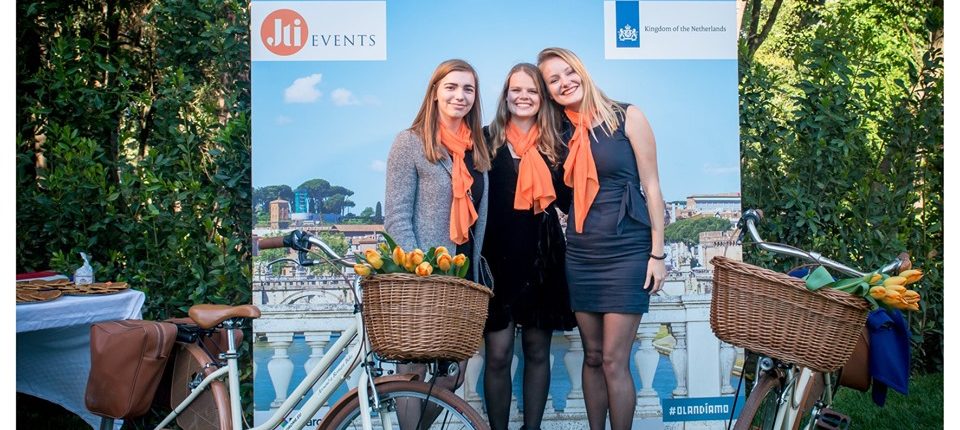 We are happy to have hosted Lisa, Amy and Laura in Italy during their spring term. We wish them all the best in their future endeavors in university and in the work place!
As the summer starts off, we would like to introduce Sven Imcken from the Netherlands and Rachel Wertz from America. Sven will be working as the Operations and Booking intern, and Rachel will be the Social Media and Communications intern.
As a Dutch native, Sven is an International Tourism Management student at TIO University of Applied Science. Growing up, Sven's family worked in the Schipol airport, which is where he started to find his inspiration for the tourism industry. He considers himself to be very flexible, hardworking, and having strong loyalty in the work place. In his free time, he enjoys playing football, tennis, and listening to music. His favorite thing about Italy so far is supporting the football teams, specifically Juventus in Turino. After university he hopes to stay in the Netherlands to continue working in the event planning and tourism sector.
"While I am working for J&TI Events, I want to spread my work experience in an Italian Company outside my home country. When I'm done with my internship, I want to have a new experience as working in a different culture with more knowledge of the Event sector. I want to prove J&TI Events that I am an hardworking person with knowledge of Italian highlights, specialties and culture, so that I can fit in the company of J&TI Events." – Sven Imcken
Originally from America, Rachel is a Communications and Mass Media student at The American University of Rome. In addition to studying communications, she also has a double minor in English Writing and Design, allowing her to also have a more creative approach to marketing. Over the course of her life, Rachel has lived in five different countries, and enjoys traveling very much. In her free time, she likes to read and work on her personal photography. After university she hopes to stay in the tourism industry while living abroad so she can continue sharing parts of the world that she loves with others.
"While working here, I hope to continue building my marketing and media management knowledge within the tourism industry, while having the hands-on opportunity to apply it in the workplace every day. As an American who has lived in Rome for two years, I have learned firsthand of the deep beauty and culture that both Rome and Italy have to offer, and hope to be a positive addition to the team this summer." – Rachel Wertz
Welcome Sven and Rachel!
https://www.jti-events.com/wp-content/uploads/2019/06/59834867_2706921399324977_951500053959147520_n.jpg
960
960
Tiziana
https://www.jti-events.com/wp-content/uploads/2019/06/Logo-Jti-Events-300x131.png
Tiziana
2019-07-11 10:45:48
2019-07-11 10:45:03
A goodbye and a hello: meet our newest staff members!