Events & travels are all about the "live show" timing and the capability to solve any trouble in the exact moment it happens.
In the last few weeks, as the High season is now on it's peak, we've managed several international project, and as usual each and every time the added value of being there, 100% at disposal for clients, was essential.
Here are some cases:
First: Rome is the perfect city to be visited by scooter: its narrow alley , curvying among the ancient ruins and buildings, its warm weather and Three-lined ways seems to be made for it!
But felling down while parking just in the exact time the whole group has to leave for the airport may be a huge inconvenience! Not for us clearly 🙂  one from our staff took care of guest's minor scratched leg while some other of us were developing the accident's papers, and the all group leave happily togheter with no serious damage reported!
Second: The Design week in Milan is always a stressful period for hotels and travel business, as thousands of people came in the city all in the same exact time, each and every year more and more. Our guests just added some minor people to the booked group while they were already on they're way to Milan, and we handle all the procedure (booking  – but more importants authorization's papers), just in time to guarantee them a fast check in once arrived!
Seems enought? Not at All!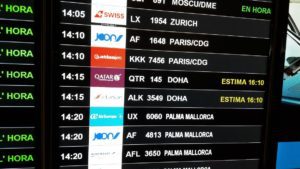 Working with guests from all over the world means need to deal with the big lottery of flight connection. And so it was last Saturday waiting for one of our top client in Barcelona. We didn't know if they would have manage to took the connection, due to a delay in the first flight and we had to reschedule all the bookings in various options (they made it/they won't etc etc), and when they finally show themselves, we were all soo happy to see each other that it really doesn't feel like a working meeting, but like a friend reunion!
So proud of our job , so in love with our guests!