2020 has been a rough year for all businesses. We all wish for a better 2021.
So let's make sure we start the new year in a great way! We are happy to present to you, the Martini Cocktail workshop.
This experience will bring a piece of Italy to your home. A bartender at the Casa Martini in Turin or Terrazza Martini in Milan will teach you how to make the perfect Fiero & Tonic, Americano, and Negroni cocktails. Under his expert guidance and our J&TI events manager, you will learn how to prepare your favorite cocktail.
This event can be done with u to 200 people on an online platform that you are comfortable with, for example Zoom or Microsoft Teams.   There will 2 arrangements to choose from, and the products will be delivered to your home. You can personalize the packaging with your brand or personal message on greeting cards etc. The event takes circa 45 minutes and the agenda is tailor-made to your request and can be expanded with speeches and personal contributions of your company.
This tailor-made event is not just any cocktail workshop, because of our partnership with Martini we can offer you an exclusive experience that cannot be found anywhere else!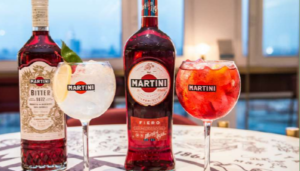 Contact us for a truly unique virtual event and thus
celebrate 2021
together with your colleagues, partners, and customers in the name of positivity and optimism. Health !!