The Green Pass
The COVID-19 pandemic is finally reaching it's end. Italy is gradually improving it's coronavirus rates and the EU has just announced a new vaccination passport titled 'The Green Pass'. Here at J&TI events, we are immensely glad to see a light at the end of the tunnel. It's finally time to fulfill that long desired dream of traveling to Italy! Our team can't wait to welcome old clients and satisfy new ones!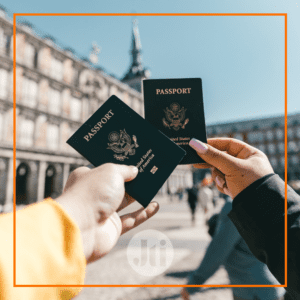 ---
What is the Green Pass?
The Green Pass is a Vaccination Passport which certifies it's carrier as COVID free and allows for unconfined mobilization around Italy. This document is to be given out by the health institution where the person received the vaccination jab. One can also ask their doctor for the document once he has recovered from COVID-19. This pass is meant to last for 9 months and allows for safe tourism and has already been approved by Italy's Prime Minister, Mario Draghi.
You can be granted a Green Pass if you have done one of the following:
Upon vaccination.
After recovering from Covid-19.
Scoring a negative PCR test result at least 48 hours before traveling.
What are we allowed to do?
As of June 15th, foreigners who travel to Italy will be able to attend weddings, ceremonies, concerts and even travel between orange and red zones. Our services offer the possibility to visit diverse regions in Italy and schedule once-in-a-lifetime incentives such as cycling, hiking and evening yacht sailing. All while staying at exclusive hotels, private villas or luxury resorts that capture the Italian essence. What are you waiting for? What are you planning to do this summer in Italy?
What can we offer you?

It's been a rough period for everyone to say the least. Why not consider finally giving yourself a break from all the chaos? Visiting Italy is a well-shared fantasy between almost everyone, but what does Italy have to offer you? Not only is it the root of the Latin world, it is also the honeypot of the European culture.
Who hasn't ever gazed at the sunset from the Alpe di Siusi meadows or shivered upon tasting Sicilian wine? How can one ignore the beautiful statues of Rome and not jaw drop under Michelangelo's paintings.
As a consultant and Event's agency, we have the strong vocation to deliver you all the incentives that give Italy it's marvel reputation. With J&TI events, you can book an unforgettable experience.
We offer exclusive activities across our country. Sight-seeing in Milan, Wine tasting in Sicily, Volcano hiking and cycling in the Dolomites and afternoons on a yacht in the Mediterranean Sea. Who's to say that you are not worthy of this experience?
•