Milan, Design and the new future of Italian City
Milan: from "Bosco Verticale" by Stefano Boeri to the new headquarters of the "Feltrinelli Foundation" of Porta Volta designed by Herzog & de Meuron and also the "Pirellone" by Gio Ponti, the "Zaha Hadid Tower" in the new City Life; "Velasca Tower" and "Trienniale", are just some of the architectural work of art designed by International Archistar.
Milan supports modern and contemporary architecture, a real golden moment for the Italian City.
Great success for Milan Arch Week in June, an event focused to architecture and urban transformations. During these days, the great visionaries of international architecture and the best designers in the world will be protagonists of initiatives and guided tours of buildings, workshops and main lectures.
Many projects are still to achieve. Within a few months, in fact, five other buildings designed by archistar will change the urban landscape.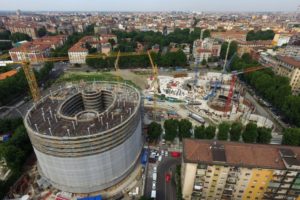 A wonderful experience you can't miss.
We will offer you the possibility to see design locations and take part to social housing projects. We create customized tours, during which expert architects will drive you from residential buildings to new quarters; from the transformation areas, to parks, trough social and environmental regeneration projects.
We study unique experiences according to your specific needs and we fully realize your expectations.
CONTACT US for more informations!!